It's time for our weekly roundup of the 10 most interesting personal finance and investing articles in Canada. In order to save on time, we compiled the following list so that you are able to get a sampling of the trends and topics on the minds of Canadian bloggers in the personal finance and investing spaces this past week. Enjoy!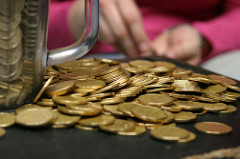 Investing
Are Socially Responsible Funds Forcing Investors to Buy Blind? - A popular way to invest in companies that toe the Socially Responsible Investing line is to buy one of the many mutual funds which promise to adhere to such principles. However, these funds only publish their top ten or twenty-five holdings, so how is one to know whether the remaining holdings adhere to socially responsible principles? An exception is the only ETF in the field in Canada, the iShares Jantzi Social Index Fund (symbol: XEN), which has a constantly updated complete list of its holdings.
Reasons why one blogger is considering purchasing shares in energy stock Delphi Energy (TSE:DEE) - Delphi Energy Corp. is engaged in the acquisition, exploration for and development and production of oil »">crude oil, natural gas and natural gas liquids from properties located in Western Canada. Its operations are principally concentrated in North West Alberta. According to Mich. the blogger at Beating The Index, DEE will be a great stock to be in going into autumn 2010 especially if natural prices put on a recovery. On the other hand, its Cardium land package is in the industry's spotlight. Mich considers Delphi Energy to be a takeover candidate and he hopes to purchase the stock before any surprises take place.
Personal Finance
Wondering what to do with your tax refund? - The best way to save your tax return is by paying down debt, starting with the highest cost debt such as credit cards and auto loans, followed by the mortgage. Consider also topping up your TFSA and/or RRSP. A $2,500 contribution to an RESP earns a $500 grant from the government (up to $7,200 per child).
Dirty Car Dealership Tactics - Sometimes the stars just don't line up. Read the lessons learnt by one blogger in his journey to purchase a new car.
What To Check When Selling/Buying a House - Once you have an offer that is accepted, the very last step before signing to buy the property is to get an inspection done. Find out one blogger's thoughts on the advantages/disadvantages of using an an home inspector.