Suncor Energy (SU:TSX) is one of Canada's premier integrated energy companies. Suncor's operations include oil sands development and upgrading, conventional and offshore oil and gas production, petroleum refining and product marketing under the Petro-Canada brand (Annual Report 2009). Suncor's common shares are listed on the Toronto and New York Stock Exchanges.
Currently Suncor's stock price is trading close to its mid-point in the 52 week time range. It's last closing price was recorded at $34.32. It's 52 week low price was $27.44 and it's 52 week high price was $40.79.
All of Suncor's financial ratios other than the Return on Equity and Gross Profit Margin are lower than the industry average. Its operating performance measures are on par/better than some of its closest peers.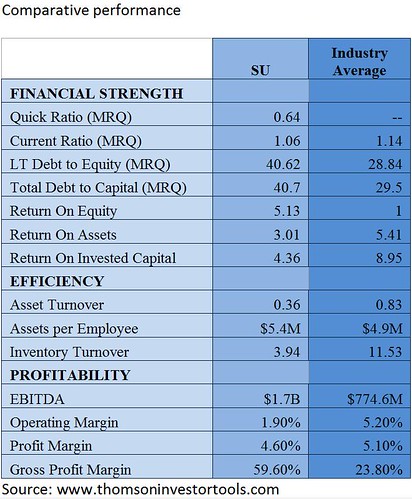 However, its relative valuation measures are higher than the industry average as illustrated below:
Is the valuation justified?
Suncor has a strong recoverable resource base of 27 billion barrels of oil equivalent.
Suncor also has in place a debt retirement plan and is now in the process of divesting assets it inherited in the merger with Petro-Canada that do not support its core operations. The company expects to close most sales by the end of the year. The proceeds from these sales are expected to be around CAD $ billion 2 to 4 and are expected to be used in reducing the company's debt. Along these lines, Suncor recently announced that it has entered into an agreement to sell certain natural gas-heavy assets in west-central Alberta for C$235 million ($230 million) in cash.
With 84% of the value in Suncor coming from oil, rising oil prices are Suncor's strongest catalyst for growth. For the near future, the US Energy Information Administration forecasts oil price to average USD 80.06 in 2010 and USD 83.50 in 2011. Going further out, futures prices for Crude oil range from a low of $85/barrel in May 2010 to a high of $92.83/barrel in December 2018. As an economically viable substitute to oil is yet to emerge, producers with large reserve bases like Suncor stand to benefit. Suncor's advantage compared to other companies is its 23 billion barrels of proven and probable reserves in the Athabasca tar sands. The trend in rising oil prices makes the high cost of oil extraction from the sands not only economically feasible but also very profitable for Suncor. Furthermore, as a leader in synthetic crude oil production SU is on the forefront of technological developments and is poised to reduce its production costs. As a company with large reserves in a geopolitically stable area it can easily increase production should the need arise.
The First Call FY2010/FY2011 EPS estimates for Suncor lie between $1.72 at the low end and $4.05 at the high end, with $2.60 being the average estimate. This would mean that Suncor is currently trading at a P/E of either 19.95 (if taking into account the low EPS estimate of $1.72), a P/E of 13.2 (if taking into account the average EPS estimate of $2.60) or a P/E of 8.47 (if taking into account the high EPS estimate of $4.05).
From a seasonal standpoint, crude oil futures remain in an uptrend between December 24 and August 30 and given that we're only in April right now, the seasonal trend of rising oil prices should help bolster the stock price of Suncor through the summer.
From a technical standpoint, the 7 day RSI for SU: TSX stands at 82.51, or as what some may refer to as an overbought condition. However, the 7 week and 7 month RSIs portend much lower values of 56.77 and 43.96 respectively, indicating that it has only been over the last 7 days or so that the price appreciation in Suncor's stock has been precipitous.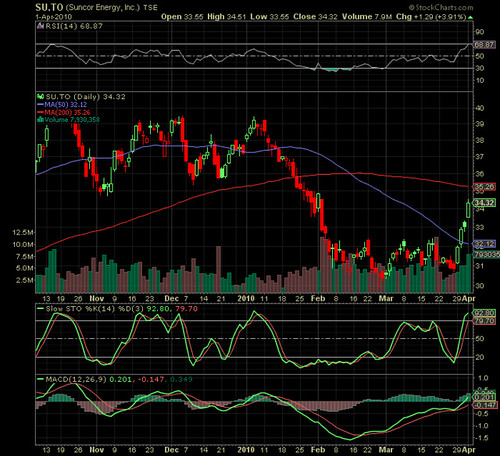 Courtesy: StockCharts
On a short term basis, while the Chaikin Money Flow Index and MACD indicators are certainly indicating positive momentum, they are by no means indicating an overbought condition, in our opinion. This leads us to believe that the recent uptrend in Suncor's stock price is not over, yet.
However, we see Suncor as a long-term play and long-term in our books is 2 years or more. Given our long ranging perspective, we would have no qualms purchasing some deep in the money calls, two years out or even purchasing the stock right here and forgetting about it. Nevertheless, given our propensity to purchase stocks on a pullback, we might wait till for a day when we see a pullback of a few dollars in the price of oil and pick away at our position on these down days.
Keep in mind that Suncor is also a heavily owned stock by hedge funds and the slightest movement in the price of oil can cause a very direct and swift response in the stock price of Suncor, which is assumingly used by these funds as a proxy for crude oil. So it goes without saying, that Suncor is a good buy for any investor who thinks oil prices will continue to rise in the future.
Disclosure: We currently do not have a position in Suncor.
Do you currently own an oil stock? If not Suncor, which one is it?