NXY is a Canadian based independent oil and gas company engaged in oil and gas production, marketing and chemicals. It also has a 7.23% stake in Syncrude Canada Ltd.; the world's largest oil producer. NXY has operations in Canada, United Kingdom (North Sea), Norway, United States of America (Gulf Of Mexico), Colombia, Yemen and West Africa. In 2008 the company produced 60 million barrels of oil and 71 billion cubic feet of gas.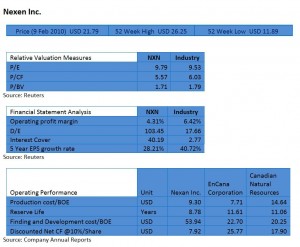 This note analyzes NXY's position from a comparative standpoint and to me it looks like a hold, leaning towards a sell. This is why:
At 23.28 NXY is trading close to its 52 week high. In a market in which the industry as a whole is trading close to its fair value there may not be major upside in the near term.
The relative valuation measures are in line with the industry but the financial ratios, especially the Debt to Equity ratio is not good compared to the industry. This could perhaps be explained by the 15.46% growth in 5 year capital spending as opposed to the industry's growth in capital spending of 6% (Reuters). The company annual report states that the average term of debt is 18 and there are no close maturities. Nevertheless the Debt to Equity ratio is way too high compared to the industry for comfort. The 5 year EPS growth rate too trails the industry by a large margin.
Where operating performance is considered production cost is on par with competitors. The reserve life index is lower than the competitors and finding and developed cost is higher than the competitors. A good reserve base and the ability to replace reserve being extracted in production at cost efficiently is a must to retain the good health of an oil and gas exploration and production company. NXY compares badly with its competitors in this regard.
However, the current environment where oil based companies are expected to fare better than gas based companies is good news for NXY whose reserves are 86% oil and 14% gas. Thomson I/B/E/S estimates the 2009 4th quarter EPS to be USD 0.40 (CAD 0.43). The 2008 4th quarter EPS was USD 0.83 (CAD 0.89).
The 2009 4th Quarter Earnings will be released on the 18th of February 2010.
Have your say in the comments: do you agree or disagree with the analysis of Nexen (NXY)?